For those who read this blog on a regular basis it won't surprise you to learn that I am a huge fan of Post Apocalyptic Novels. I have read literally hundreds of books that can be labeled Post Apocalyptic, or other related subgenres. Years ago I wrote a list of Post Apocalyptic novels I had read, at that time the list was about 150 books long. Sadly, I lost the list when my harddrive crashed and never had the motivation to recompile it from scratch. For a while I wanted to do a Feature Blog post on my favorite Post Apocalyptic novels, but never had. I think the scope was too grand for me. I recently decided instead to do a series of posts about my favorite Post Apocalyptic novels based on the type of Apocalypse. Today I will give you my Top 10 Nuclear Holocaust novels.
As always, my "Best of" lists are purely based on how much I enjoyed the novel. I am not evaluating them by any literary means. These are just my personal favorites. Also, for an added bonus, I will play my favorite game of "Who Should Narrate This Book" for any of the novels that are not yet available as audiobooks.
Nuclear War Post Apocalyptic Novels
1. Swan Song by Robert McCammon (1987)
I will not get into this novel all that much, because I will be posting my review of the audiobook version of this novel soon. I will just say that this has been one of my favorite Post Apocalyptic novels of all time, and an icon of my childhood.
Audiobook Version: Audible has just released the audiobook version, read by Tom Stechshulte.
2. A Gift Upon the Shore by MK Wren (1990)
One of the most underrated and underappreciated Post Apocalyptic novels out there. It is the story of two women surviving on their own in the Pacific Northwest after a Nuclear War. Mary Hope is one of the strongest female characters I have ever read. This novel should be canon for any fan of Apocalyptic fiction.
Audiobook Version: Sadly there is no audiobook version of this book. I think this would be the perfect book for a narrator like Xe Sands to take on. I haven't listened to a full novel narrated by Ms. Sands, but listening to her Going Public series, she has the perfect tone to capture a character as serous and strong as Mary Hope.
3, Alas, Babylon by Pat Frank (1959)
Alas, Babylon is an inmate look at a small Florida town during a Cold War ere nuclear exchange called Fort Repose, Florida. The protagonist, Randy Blagg is an aimless man, who finds himself in the midst of turmoil, and is able to pull together the various townspeople to serve and protect their small town. I was a bit uncomfortable with the racial themes of the book, which were probably quite progressive in the 1950's but seemed quite patronizing to me when I read the novel. Alas, Babylon is a classic of the genre, and one of the first novels set in the midst of Nuclear War.
Audiobook Version: Audible produced an audiobook version of this title read by Will Patton. I haven't listened to it, but Patton is an excellent fit for this novel.
4. Malevil by Robert Merle Translated by Derek Coltman (1972)
I have always thought of Malevil as the French Alas, Babylon. It is the story of Emanuel Comte, a retired school master who now runs a small farm and uses the Castle on his land as a sort of tourist attraction. After a nuclear exchange, Comte pulls together friends and neighbors to rebuild their society and fight of marauding bandits.
Audiobook Version: There is no audiobook version of this novel. I do not know many narrators who can handle a conversational French patois but of the narrators I know of, I feel John Lee would be best to handle a novel such as this.
5. A Canticle for Leibowitz by Walter M. Miller (1960)
A True Classic, A Canticle for Leibowitz is a novel in three parts. The main story of the novel deals with an order of monks, trying to preserve the writings of their patron in the midst of a Luddite society post nuclear war. Full of dark humor and wonderful characters A Canticle for Leibowitz is a cautionary tale for the ages.
Audiobook Version: Blackstone Audio produced an audio version of this novel, with Tom Weiner narrating.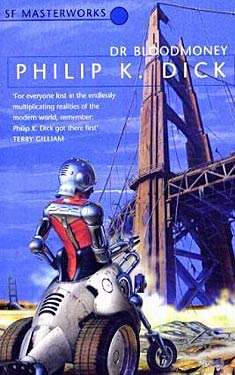 6. Dr. Bloodmoney, or How We Got Along After the Bomb. by Philip K. Dick (1965)
Dr. Bloodmoney is a strange mixed of a classic Post Apocalyptic survival with Dick's unusual paranormal science fiction. It has one of the most memorable character's ever in Hoppy Harrington, a wheelchair bound man with telekinetic powers, and the ability to mimic voices perfectly.  Dick embraces the concept of genetic mutations to create some of the most bizarre characters and scenarios that I have ever read. Its equal parts fun and brilliant.
Audiobook Version: Blackstone Audio produced an audio version of this novel, with Tom Weiner as narrator. Mayhaps, a trend?
7. Warday: And the Journey Onward by Whitley Strieber and James (1984)
Before there was World War Z, there was Warday, Whitley Strieber's classic faux journalistic account of America after a limited Nuclear exchange. Full of "official" government documents and research articles, as well as first person accounts of Whitley and James travels it is a unique look at a changed America.
Audiobook Version: Brilliance Audio produced a version of this novel in 1985 narrated by Richard Lavin and Larry Brandenburg available only in multi-track cassette. You can only find copies of this on auction and specialty sites. I would love an updated audio version of this title. I thing someone with a youthful voice, yet able to capture the matter of fact style of the documents would be perfect. My choice would be Erik Davies.
8. The Long Tomorrow by Leigh Brackett (1955)
 
Another novel that hasn't received its due, The Long Tomorrow takes place in a world devastated by Nuclear War. The Constitution has been changed to outlaw any dwellings more 1,000 residents and persons found in possession of technology are stoned. Two young cousins Len and Esau, fascinated by stories of the old world, head out on a road adventure looking for a rumored town containing hidden technology. I loved that The Long Tomorrow showed how both extremes of an argument can be equally destructive.
Audiobook Version: There is no audio version of The Long Tomorrow. This one was a tough call for me, but I think someone like Kirby Heyborne could capture the young, naive main characters well.
9. Long Voyage Back by Luke Rhinehart (1983)
This little know novel gives an interesting spin on the Nuclear survival tale. This cold war era tale of nuclear war centers around a retired naval officer as he tries to escape south along the Atlantic coast and through the Caribbean on a small Trimaran with friends and family. They must deal with other survivors, nuclear winter, pirates and increasingly harsh conditions in a race for survival.
Audiobook Version: There is no audiobook versions of this novel. I struggled for who pick as a narrator for a while then suddenly a name just jumped out at me. Stefan Rudnicki. I think he would be perfect for this role.
10. One Second After by William R. Forstchen.
I went back and forth with this one. One Secind After really isn't a nuclear holocaust novel in any traditional sense, One Second After is about an EMP weapon, a nuclear bomb set off in the upper atmosphere that renders electronic useless. The setting is a small North Caroline college town, and tells the story of former Army officer John Matherson. In many ways it is a modern retelling of Alas, Babylon,  following the actions of a small town as they try to survive and protect themselves. It is full of heart wrenching emotional scenes and horrible devastation.
Audiobook Version: Blackstone Audio produced an audiobook version narrated by Joe Barrett. I have listened to it, and found it very well done.
I know there are a few classics that didn't make this list, including On the Beach and Damnation Alley. I may get some slack from hardcore Post Apocalyptic fans, but I never really got into On the Beach. I just found the characters annoying. Damnation Alley could have been my #10. I love the book, and love Zelazny's imagery, but it never really felt like a Nuclear Holocaust book to me.
Also, I thought I would announce that starting in January, every Friday will be dedicated to Post Apocalyptic fiction. Whether is be another list, an author interview, a review, or reminiscing about a favorite, I will be posting something Post Apocalyptic. I'll admit, that I "borrowed" this Idea from Jenn of Jenn's Bookshelves Frightful Friday series. I will be calling this "Welcome to the Apocalypse." You're welcome to join me if you wish.