Since my print reading time is relatively limited, I tend to read a more novellas and short stories than novels. Here are a few quick reviews of some Zombie related shorts I have recently read.
The Crossing by Joe McKinney (A Dead World Novella)
Print is Dead Books
Pages: 90
The Crossing is set in McKinney's Dead World series of zombie novels. It's a short, fast paced story of an investigative reported named Samantha who sneaks into the zombie plagued Quarantine Zone to get a story about the refugees who attempt to cross the wall into the free territories. McKinney never shies away from the brutality of the Zombie Apocalypse whether done by zombies or humans. The contrasts between the clean, well fed Samantha, and the dirty, ragged survivors is vivid, and makes her stand out in the new lawless reality south of the wall. Luckily she meets a survivor named Jennifer, who is willing to risk it all so Samantha makes it across the wall alive. Fans of McKinney's Apocalypse of the Dead will enjoy this well drawn story by one of the best undead authors working today.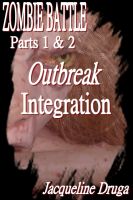 Zombie Battle 1: Outbreak & Zombie Battle 2: Integration by Jacqueline Druga
Self Published
The Zombie Battle series is a group of shorts that together make up a complete novel. I have only read the first two of the parts so far. The story begins as with a weird item falling from the sky into a small South American country, leading to a disease which turns those exposed into Zombie like creatures. Druga explores some interesting ideas in this series, which offers some cool twist onto the traditional zombie breakout tales. Zombie Battle is a self published series, and the dialogue and prose is often a bit clunky. She fills the story with likeable characters, and interesting science, yet all too often they are mired in unnecessary exposition. With a competent editor, this story could really work, but the writing issues are often a distraction. That being said, I had a good time with what I did read, and will probably continue the series when I am looking for something quick and maybe just a bit brutal to read.